Tweet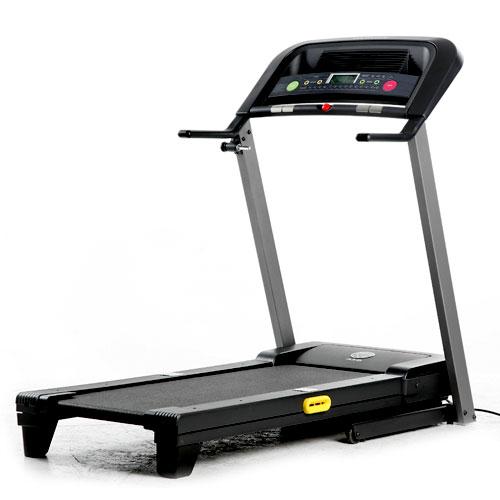 We purchased the
Gold's Gym 450 T
from CSN Stores as part of a review. A few weeks ago, we decided that we were going to turn our 'bonus room' into a
gym
. From there we made some decisions as to what we wanted in the gym:
1. Treadmill
2. Weight Bench
3. Flat Screen TV w/ DVD Player
4. Storage
5. Yoga Mat
6.Medicine Balls
7.Weights and Weight Rack
I took all the
furniture
that was previously in that
room
and listed it on Craigslist. Within a week we had an empty room. Time to start filling it back up with gym
equipment
. The first thing we ordered was the treadmill from CSN Stores. We ended up getting a great deal w/ Free Shipping (I'll tell you about that a little later).
Since buying a treadmill is a pretty big purchase we really took the time to look at all the options in our price range. We didn't want to spend anything over $500 but had some small requirements that were a must. First being, a cup holder, as small as it sounds it's a big deal to have somewhere to put your water. Second, preprogrammed workouts: I like to do these when I get bored with just running. Third, an incline, allows you to intensify your workouts as needed. Fourth, Warranty: To me if a company is willing to back the product for a certain amount of time, it tells you they will stand behind it. With all of those considerations we ended up on the Gold's Gym 450T.
Now on to the awesome price we got it for. The original price of the Gold's Gym 450T was $625 but CSN Stores had it on sale for $420 w/ Free Shipping. Now, remember I said we sold all the furniture in the
old room
on Craigslist? Well, we ended up getting $250 for everything. We took that money and put it toward the purchase of the new treadmill. For writing this review for CSN Stores, they sent me a $50 gift card to apply toward our new gym project. That leaves our total out of pocket = $120.
I was pretty stoked after I ordered the treadmill but was very skeptical of Free Shipping on a treadmill. How do they even ship that anyways? Answer: On a UPS Freight Truck. The truck pulled up in front of our house, the UPS guy put the treadmill on a dolly and brought it in the house for us. Easy as pie! I thought for sure this was going to be a huge hassle but it wasn't at all.
Overall, I would order from CSN Stores again in a heartbeat. They have great prices and the free shipping saved our budget.
We're still getting the gym in order so I promise pictures soon.
**Disclaimer: CSN Stores provided a $50 gift card toward the purchase of the treadmill**