Tweet
Jackson NICU Day 14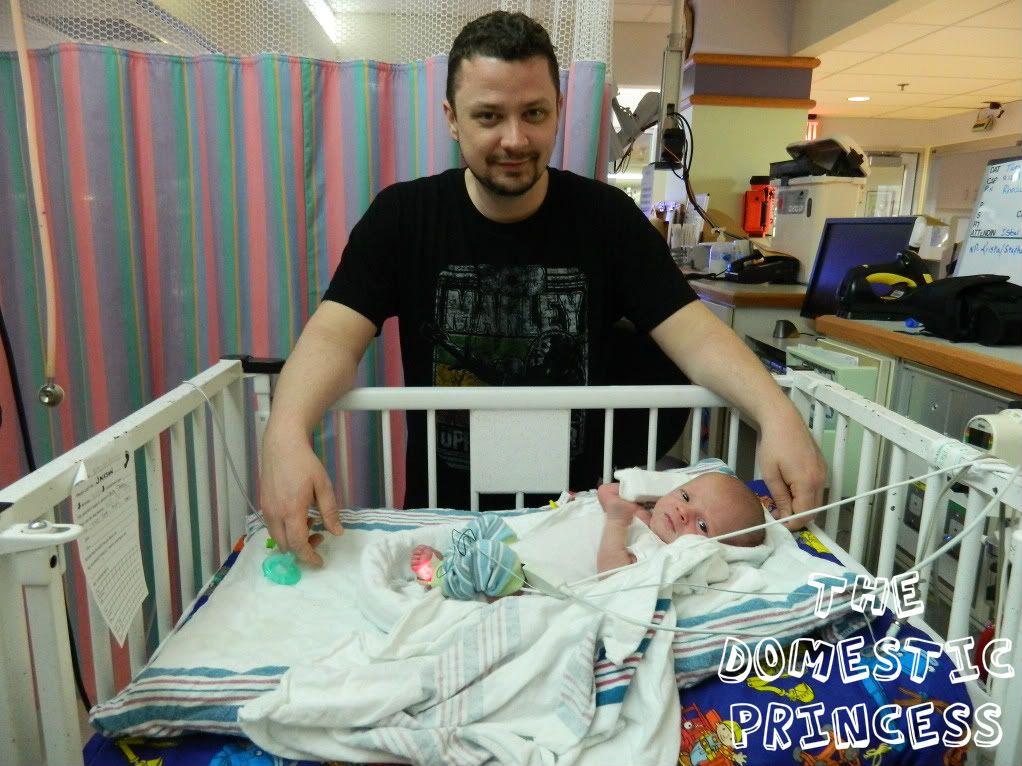 This is my whole world
Today I woke up with the worst attitude possible. It seems that every day is getting harder and harder to sit at the hospital. Not that spending time with Jackson is hard, I'd never leave him EVER, it's the hospital. I just want to take my kid and leave. It was a beautiful day today in Ohio and all I could think about is the fun we'd be having at home. It's really hard not to concentrate on what could have been. I hate that he's in the hospital getting poked and prodded every day.
As soon as we arrived at Children's this morning his nurse, Michelle, let us know that Jackson's blood sugars went into the 40's over the night. Chris and I were really curious what the plan was going to be now that his blood sugar was not remaining stable.
This morning we were supposed to take Infant CPR at 11 am but decided to reschedule for tomorrow so that we could be there for rounds with Nurse Mousy and the doctors. During rounds we found out that Jackson's platelets went up to 130,000 and his electrolytes were normal. So they decided to "challenge" Jackson's blood sugar today and lower the Dextrose another 0.5.
Even though this wasn't bad news, I was having a hard time dealing with knowing we are more than likely not getting out of Children's any time soon. So we decided after being there for 4 hours we would leave early today and try to be normal. Chris and I usually spend 6-8 hours at the hospital every day. We just need that time with Jackson but today for our own sanity we left early.
I took a nap when we got home and Chris took the dogs for a walk. When I woke up the bracelet Chris had ordered me for my birthday was sitting on top of my phone. It's a Tiffany Bracelet with a Mom charm on it. It made me smile right away. I've waited so long to earn that title.
At 6 pm I called Jackson's nurse to see what his 3 pm blood sugar was. It ended up dipping more after his Dextrose was turned down for about an hour. It was 42. So his NP drew the labs that the Endocrinologist ordered the other day. They want to know why his blood sugar will not stay stable. I'm hoping these labs don't take too long to get back and we can get some answers.
Today we got some fun shots of Jackson....
I took some
BabyLegs
to the hospital to see if they fit him yet. It looks like we have a little way to go but boy do they look cute on him.
Daddy being silly with Jackson
More milk please