Tweet
Jackson NICU Day 19 (03.12.12)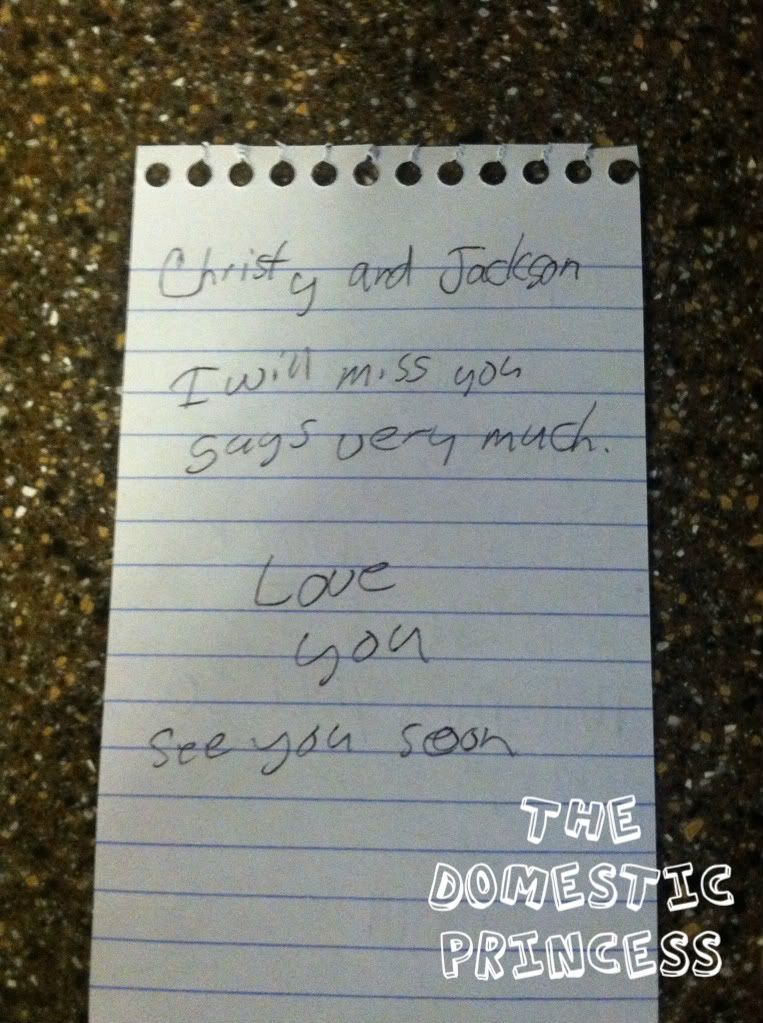 This morning Chris started back to work and had to be at the office at 6 am. He was up way before I was. He left this note for Jackson and I. Aren't we lucky to have him?
I arrived at Children's this morning around 9:30 am and almost as soon as I got there the Endocrinologist came by. She is in the same group as the first one we saw but I had never met her before. We talked a little bit about a plan for Jackson but she wanted to talk with his doctors first. Her plan is for us to go home on the Diozoxide and for us to test Jackson's blood sugar 3 times a day at home. About an hour later the doctors were making rounds and they agreed with the Endocrinologist. They are also going to keep Jackson off the Propranolol as long as his heart rate stays good this week. Jackson's blood sugars have been really good since Saturday. Today the last one was 88 at noon, so his Dextrose rate has been lowered to 1.5. They will keep lowering it by 0.5 every 8 hours as long as they stay above 70.
His doctors did say we will need to stay followed up with Cardiology, Endocrinology, Hemotology and Genetics once we do get home. Also, they are scheduling Chris and I for a class on sticking Jackson for his blood sugar tests. This is still something they are thinking that Jackson will grow out of which is why we are going to stay followed up with Endocrinology.
When I mentioned going home on Friday, no one would say that yes we are shooting for that date. Which I understand, they don't want us to get our hopes up but I like all this talk about follow ups once we leave.
Our big guy got a crib upgrade today....they added a mobile for him since he's starting to be a wake a little bit more.
Chris and I left the hospital today around 5:30 pm. Chris is exhausted from his first day back to work and getting up early. I was too. Once we got home there was a USPS notice on our door. We figured someone had sent Jackson some cool stuff so we headed to the post office to pick it up. The post office lady handed us an envelope from "The Girls." I knew exactly who this was. I have a group of girls I chat with online and have for years. They have been there through Infertility, Pregnancy, Jackson's Birth and now Jackson's NICU stay. Always being so supportive of us. These girls got together and sent us $400 in gas, restaurant and Amex gift cards. I've met a few of these girls but most I've never met in person. We are just in awe of these amazing girls!