Tweet
Jackson NICU Day 12 (03.05.12)

Life of a NICU Mom - Looking up the information the doctors just told us (when the internet works)

Today was a busy day with doctors coming to see us. We arrived at Children's at 10:00 am and as soon as we sat down with Jackson the Nurse Practitioner came over to talk to us. Chris and I have been calling her "Nurse Mousy." Same Nurse who told us we would not be going home any time soon and we just haven't had a very good interaction with her since.
Nurse Mousy informed us that a Geneticist, Hematologist and Endocrinologist will be coming to see us today. She wants consults with all of them because of Jackson's low platelet count and low blood sugars. Over last night Jackson had a blood sugar of 24 which is the lowest he has ever had but after a bolus it came right back and stayed that way all day.
First to visit us was the Endocrinologist. She looked over Jackson's information and ordered a full blood panel if his sugars go as low as they did last night again. She seems to think that his low blood sugars are caused by stress. But other than that she doesn't think that we will probably see the low blood sugar again but if we do we have labs ordered so they will know why.
About an hour later, Nurse Mousy came back for rounds with her team of doctors. They have consulted the Cardiologist and decided to reduce Jackson's Propranolol by half to see if this helps his blood sugar.
Next to come over was Captain Bed Side Manner aka The Geneticist. We were lucky he had an assistant with him to "interpret." While he looked over Jackson his assistant went over mine and Chris's family medical histories. Once he was done, he told us that Jackson has no obvious genetic disorders and none of his history seems to fit into any genetic disorders. He is going to order the genetic test that Nurse Mousy wanted for
DiGeorge Syndrome
but doesn't see obvious symptoms of this.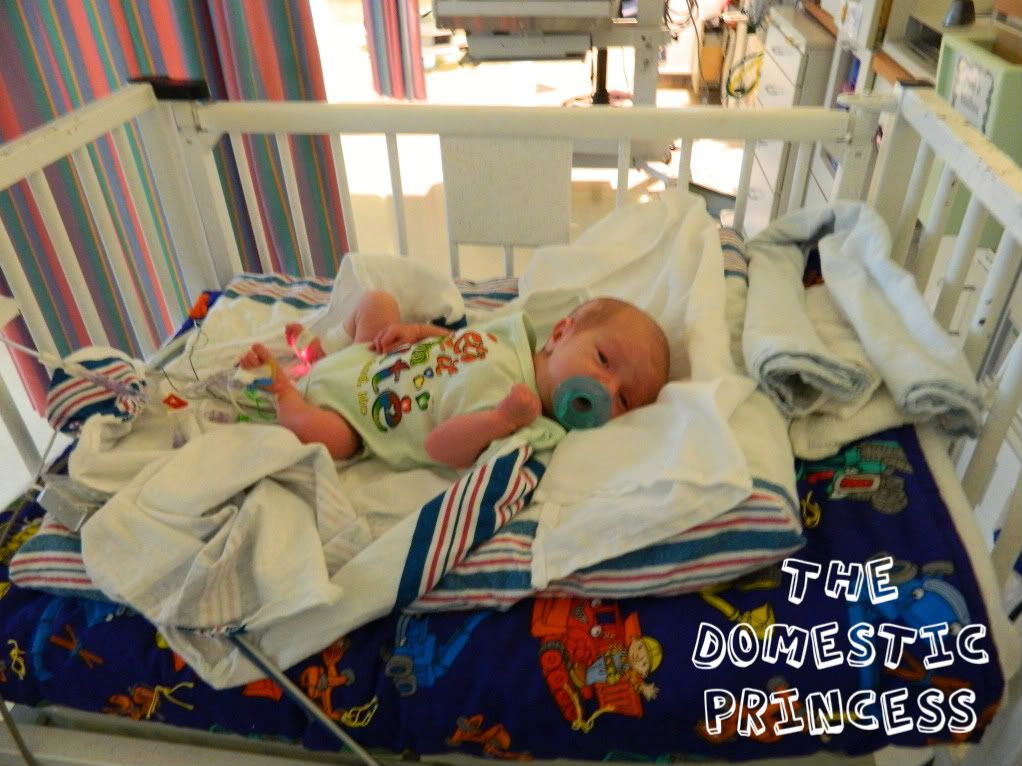 The last consult we had was from the Cafeteria Lady. She was able to let us know what kind of sandwiches Jackson is going to like when he's 10. I kid, I kid. Sometimes you need a little laughter and making up names for our nurses and doctors was what kept us sane today.
The Hematologist never showed up today so we are hoping that they were just looking at Jackson's records instead of coming to see us.
We still have no idea when Jackson will be coming home. There have been no talks at all about home either. It's very frustrating to Chris and I but know that as soon as we can get the blood sugar under control we should be able to start having those conversations with Nurse Mousy.